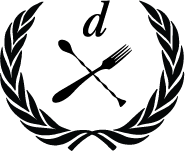 Dine Drink Detroit
Celebrating one of the country's most exciting emerging restaurant cultures. From October 1 – 10, participating establishments are offering up something extra special for only fifteen bucks. At least one food item, a drink, and an awesome night are included in the price. Taxes and gratuity are not. No reservations necessary. Stop in any time.
For food, drink and good times look no further. New to the city and want to plan your trip geographically? Explore our handy map below. New to the scene and want to learn more? Read about the featured restaurants and bars,
here
.
CRAFT WORK
Craft Work Restaurant and Bar is located in Historic West Village. We serve New American food using quality ingredients.
(313) 469-0976
8047 Agnes
DETROIT CITY DISTILLERY
Detroit City Distillery creates small batch artisanal whiskey, gin and vodka using the finest local ingredients sourced directly from farms near our distillery and tasting room located in Detroit's famed Eastern Market.
(313) 338-3760
2462 Riopelle Street
GRAND TRUNK PUB
We are moving forward by honoring the history of this building as The Grand Trunk Rail Road's ticket station. Grand Trunk Pub is one of Southeast Michigan's finest drinking establishments. Grand Trunk is located in the heart of downtown Detroit, one block from Campus Martius and Hart Plaza. Come have a pint in what was once the Grand Trunk Railway Station. The original early 1900's architecture and the beauty of the Grand Trunk's 25 foot vaulted ceilings, brass chandeliers, exposed brick walls and hard wood floors.
(313) 961-3043
612 Woodward Ave.
GREAT LAKES COFFEE
A place you may never leave. Coffee, wine, beer, cocktails, and an extensive assortment of sandwiches and bites – all carefully crafted and selected with a focus on small producers.
(313) 831-9627
3965 Woodward
GREEN DOT STABLES
The goal at the Green Dot Stables is simple. They want to provide their guests with great food, great service, and a great atmosphere – all at a great price.
(313) 962-5588
2200 W Lafayette Blvd
JOHNNY NOODLE KING
The ramen trend is finally reaching Metro Detroit from the coasts. Johnny Noodle King will be the one of first ramen restaurant in Detroit.
(313) 309-7946
2601 W. Fort Street
LA FERIA
16 years after a initially dreaming of sharing a little bit of Spain with others has became a reality when friends–Pilar Baron-Hidalgo, Naomi Khalil, and Elias Khalil submitted their idea to the 2012 Hatch Detroit contest and won with overwhelming support. Detroit was ready to share the magic of la Feria, and now with our doors open, we are so excited to bring it to you!
(313) 285-9081
4130 Cass Ave.
MERCURY BURGER & BAR
Flipping classic burgers with a little something extra, Mercury offers a couple dozen items between bread along with craft beers, poutine, and old-school milkshakes.
(313) 964-5000
2163 Michigan Ave.
MOTOR CITY WINE
What's new at Motor City Wine? Just about everything; new Corktown digs, huge patio, abundant parking, and no more stairs!  Plus, everything else you've always loved about the place – fun staff, eclectic, affordable wines to stay or to go, small plates, and snacks.
(313) 483-7283
1949 Michigan Ave.
MUDGIE'S DELI
An artisanal sandwich shop in Detroit's historic Corktown neighborhood, with fresh, high quality food and a brand new wine and beer program.
(313) 961-2000
1300 Porter St.
OTTAVA VIA
Serving up fun, rustic Italian plates and pizzas from their wood-fired oven, Ottavia Via is the newest addition to the burgeoning restaurant scene in Corktown.
(313) 962-5500
1400 Michigan Ave.
SLOWS
Corktown stalwart Slows has been drawing national acclaim for its barbecue since 2005. A true community restaurant, they're at the forefront of community improvement projects, raising funds for Roosevelt Park, leading recycling efforts, and championing sustainable practices.
(313) 962-9828
2138 Michigan Ave.
ST. CECE'S PUB
Named after the patron saint of whiskey (at least, according to owner Celeste Balanger), St. Cece's is a cozy Corktown gastropub that offers affordable modern scratch food in a relaxed environment.
(313) 962-2121
1426 Bagley Ave.
TRAFFIC JAM & SNUG
Established in 1965, this Detroit mainstay is known for their in-house bakery, microbrewery, and dairy, the curiously intimate multi-level dining rooms, and an eclectic menu of made-from-scratch dishes.
(313) 831-9470
511 W Canfield St.
TWO JAMES | KATOI
Located in Detroit's Corktown district, Two James is committed to producing only the highest quality environmentally conscious handmade spirits utilizing locally sourced agricultural products with the aim of revitalizing the community and reinforcing the craft product movement.
2445 Michigan Ave.