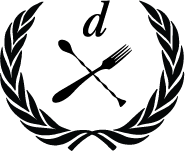 Dine Drink Detroit
Celebrating one of the country's most exciting emerging restaurant cultures. From October 1 – 10, participating establishments are offering up something extra special for only fifteen bucks. At least one food item, a drink, and an awesome night are included in the price. Taxes and gratuity are not. No reservations necessary. Stop in any time.
The
Restaurants
and Bars
For food, drink and good times look no further. New to the city and want to plan your trip geographically? Explore our handy map below. New to the scene and want to learn more? Read about the featured restaurants and bars,
here
.
ANTIETAM
Antietam exists for one sole purpose: to create lasting memories befitting a feast.. 
(313) 782-4378
1428 Gratiot

BATCH BREWING COMPANY
Batch Brewing Company is the 1st nano brewery in Detroit. Located in Corktown on the site of the old Porter Street Station, Batch Brewing Company brews clean, balanced beers in a variety of styles, from Belgian to German, to the experimental.
Batch Brewing Company takes food just as seriously as the beer. Chef Matt Johnson reinvents the menu routinely, particularly his interpretation of both pasty and arancini.
Batch Brewing Company also launched an initiative called "The Feelgood Tap", partnering with local nonprofits. We brew a beer for each partner and $2 from each pint sold goes to that partner. The Feelgood Tap will be a 501c3 by 2015, giving other bars and restaurants the opportunity to participate as well.
Batch Brewing Company was the winner of 2013 Hatch Detroit.
(313) 338-8008
1400 Porter St

 CHARTREUSE KITCEHN AND COCKTAILS
We like being in a good mood, and being around other people that are in a good mood. We feel good about supporting local farmers and foragers who work hard and are good at what they do. Our talented chefs strive to showcase these quality ingredients by letting them speak for themselves and highlighting the craftsmanship that went into cultivating them. We've decorated our dining space to resemble a place that felt like someone's home, a home that we'd feel comfortable and happy to relax in. We try to hire people who are positive, happy, and fun to be around. We'd be honored to participate in helping to make your mood even better than before you walked through our door. Thank you for providing us that opportunity.
313-818-3915
15 E Kirby St Suite D
COLORS DETROIT
COLORS Detroit Restaurant, a fully functioning restaurant in the Paradise Valley area, opened in 2012. Serving farm to table cuisine in a sophisticated, contemporary setting, COLORS Detroit provides fresh and affordable locally sourced food to Michigan residents while operating the COLORS Hospitality Opportunities for Workers Training Institute (a ten week training program for restaurant workers) and COLORS Co-Op Academy (which provides in-depth training to those interested in starting a restaurant or food industry business). Colors' guests receive great food and great service and their patronage directly impacts the success of our social and economic justice mission and our trainees.
(313) 496-1212
311 East Grand River Avenue 

DETROIT CITY DISTILLERY
Detroit City Distillery creates small batch artisanal whiskey, gin and vodka using the finest local ingredients sourced directly from farms near our distillery and tasting room located in Detroit's famed Eastern Market.
(313) 338-3760
2462 Riopelle Street
FIREBIRD TAVERN
Firebird Tavern is an authentic American tavern in the heart of downtown Detroit that offers residents, visitors and workers a warm, lively and inviting destination to meet, dine and drink. Located in the heart of Detroit's historic Greektown district, Firebird Tavern fills a gap among downtown dining venues, providing upscale tavern fare in a traditional yet modern setting. Firebird offers two floors of dining, dancing, and private event space for up to 300 people. Come for a weekday lunch, pregame dinner, post-game drinks, and late-night dancing. 
(313) 782-4189
419 Monroe
GOLD CASH GOLD
We are a southern brasserie restaurant. We focus on whole animal usage, fermenting and pickling and working with local farmers to source the best possible seasonal produce. We feature a craft cocktail program as well as a well curated wine and beer program
(313) 242-0770
2100 Michigan Ave 

GRAND TRUNK PUB
We are moving forward by honoring the history of this building as The Grand Trunk Rail Road's ticket station. Grand Trunk Pub is one of Southeast Michigan's finest drinking establishments. Grand Trunk is located in the heart of downtown Detroit, one block from Campus Martius and Hart Plaza. Come have a pint in what was once the Grand Trunk Railway Station. The original early 1900's architecture and the beauty of the Grand Trunk's 25 foot vaulted ceilings, brass chandeliers, exposed brick walls and hard wood floors.
(313) 961-3043
612 Woodward Ave.
GREEN DOT STABLES
The goal at the Green Dot Stables is simple. They want to provide their guests with great food, great service, and a great atmosphere – all at a great price.
(313) 962-5588
2200 W Lafayette Blvd
THE GRILLE MIDTOWN
The Grille Midtown is a neighborhood bar & grille with exceptional food from our scratch kitchen and great seasonal cocktails. Midtown's favorite spot for good food, good drinks & great friends.
(313) 832-0892
3919 Woodward Avenue 

JOHNNY NOODLE KING
The ramen trend is finally reaching Metro Detroit from the coasts. Johnny Noodle King will be the one of first ramen restaurant in Detroit.
(313) 309-7946
2601 W. Fort Street
JOLLY PUMPKIN
Jolly Pumpkin Detroit offers eclectic pub fare, signature pizzas, truffle fries & all craft beers, distilled spirits & wine available through NUBCo.
(313)262-6115
441 W Canfield St

LA FERIA
16 years after a initially dreaming of sharing a little bit of Spain with others has became a reality when friends–Pilar Baron-Hidalgo, Naomi Khalil, and Elias Khalil submitted their idea to the 2012 Hatch Detroit contest and won with overwhelming support. Detroit was ready to share the magic of la Feria, and now with our doors open, we are so excited to bring it to you!
(313) 285-9081
4130 Cass Ave.
MERCURY BURGER & BAR
Flipping classic burgers with a little something extra, Mercury offers a couple dozen items between bread along with craft beers, poutine, and old-school milkshakes.
(313) 964-5000
2163 Michigan Ave.
MOTOR CITY WINE
What's new at Motor City Wine? Just about everything; new Corktown digs, huge patio, abundant parking, and no more stairs!  Plus, everything else you've always loved about the place – fun staff, eclectic, affordable wines to stay or to go, small plates, and snacks.
(313) 483-7283
1949 Michigan Ave.
MUDGIE'S DELI
An artisanal sandwich shop in Detroit's historic Corktown neighborhood, with fresh, high quality food and a brand new wine and beer program.
(313) 961-2000
1300 Porter St.
OTTAVA VIA
Serving up fun, rustic Italian plates and pizzas from their wood-fired oven, Ottavia Via is the newest addition to the burgeoning restaurant scene in Corktown.
(313) 962-5500
1400 Michigan Ave.
PJ'S LAGER HOUSE
PJ's Lager House, a legendary Detroit music venue serving exceptional food prepared with great care at a reasonable price, daily.
(313) 961-4668
1254 Michigan ave

ROCK CITY EATERY
New-American fare. Locally sourced ingredients and booze. Specializing in small plates and killer pies. Comfortably eclectic. Fine dining in disguise.
(248)633-3072
11411 Joseph Campau, Hamtramck

SLOWS
Corktown stalwart Slows has been drawing national acclaim for its barbecue since 2005. A true community restaurant, they're at the forefront of community improvement projects, raising funds for Roosevelt Park, leading recycling efforts, and championing sustainable practices.
(313) 962-9828
2138 Michigan Ave.
ST. CECE'S PUB
Named after the patron saint of whiskey (at least, according to owner Celeste Balanger), St. Cece's is a cozy Corktown gastropub that offers affordable modern scratch food in a relaxed environment.
(313) 962-2121
1426 Bagley Ave.
TRAFFIC JAM & SNUG
Established in 1965, this Detroit mainstay is known for their in-house bakery, microbrewery, and dairy, the curiously intimate multi-level dining rooms, and an eclectic menu of made-from-scratch dishes.
(313) 831-9470
511 W Canfield St.
TOWN PUMP TAVERN
Located in the heart of Downtown Detroit's theater and entertainment districts, the Town Pump Tavern, with our tin ceilings and wood walls, is one of the area's most popular destination spots. We're only steps away from Comerica Park, Ford Field, the Fox Theatre and the Fillmore Theatre.
313 961-1929
100 W. Montcalm 

Launch Party
We are excited to announce that Dine Drink Detroit is back for it's annual Launch Party.  We bring together the best of what Detroit has to offer in both Food and Drink for a special night on the Riverfront.  Mark your calendar for Monday, September, 28th from 7:00pm – 10:00pm at Gabriel Richard Park for the annual Dine Drink Detroit Launch Party which includes a special edition Slow Roll.   Tickets are available in advance (Link not available yet) for $15 (3 – Drink Tickets),  $25 (Dine Drink Detroit – 5 Drink/Food Tickets), or $45 (Riverfront Exclusive – 6 Food & Drink Tickets).   Live entertainment by some of Detroit favorite Musicians & DJ's in addition to a special video presentation of the city of Detroit.
For the
inquisitive
[/column] [/container]
[/content_band]