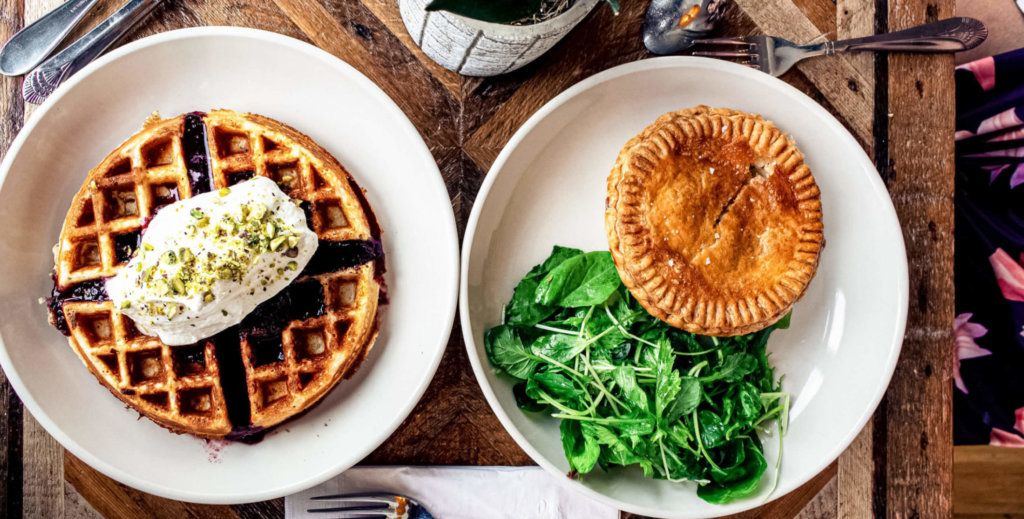 Established in 1834, Detroit's Corktown is the oldest standing neighborhood in the city. Corktown restaurants have since begun springing up at a staggering pace within the city.
Despite its small size, Corktown might seem a bit difficult to navigate for visitors – if only because of its abundance of great spots to visit. Take a stop by the historic Michigan Central Station while you're in the area, and if you're looking for great Corktown restaurants to visit, we've got you covered.
Here are 10 Corktown restaurants you shouldn't miss. Listed in no particular order of favorites! 
1. Lady of the House

Chef and owner and 2019 James Beard-nominee Kate Williams wanted to bring a fresh perspective on hospitality to Detroit. With Lady of the House, Williams draws her inspiration from what a strong sense of matriarchy means in the home and, now in the kitchen. Williams wouldn't say she's the 'lady of the house' – rather she'd tell you that role was filled by her mother, her grandmother, and any woman who meant the world to her family.
Lady of the House has an elegant interior, one that suggests you've entered the home of a close relative. From the piecemeal china to the family style dining, everything about Lady exudes a home-cooked vibe.
Lady offers a small plates concept rooted in Irish and English cuisine. Expect the table to be filled with different plates to try. 
Lady not only welcomes you to a communal dining experience, but relies on the community around it to make the experience happen. Williams curates a 'snout-to-tail' no-waste kitchen using locally-sourced ingredients from many of Detroit's sustainable urban farms. Every bottle gets recycled, every food scrap gets composted.
No doubt if entertaining friends or family alike, Lady is sure to impress.
Our Recommendations: Parisian ham, carrot steak, whole roasted chicken for 4
2. Gent
After your visit at Lady, pop down to Gent – but only if you have an invitation or membership. Gent is Williams's new membership-club concept downstairs from Lady of the House. If Lady of the House is the dining room, Gent is the man cave.
While food is limited at Gent (mostly snacks and cured meats), you could spend weeks working your way through their massive classics-only cocktail menu. You won't find a smoked pineapple habanero negroni, but you'll find just about anything "The Professor" Jerry Thomas snuck into his books.
Our Recommendations: For cocktail buffs, this is your spot.
3. Folk

Folk is an artisanal cafe tucked next to Lady of the House on Trumbull and Bagley. This cozy neighborhood cafe specializes in made-from-scratch menu items and healthy drinks. For coffee die-hards, the brew is always on point.
Folk is a small location, and the interior is warm, intimate, and inviting. The staff are knowledgeable, and at Folk there is no tipping as gratuity is included in their menu pricing!
Folk's menu rotates regularly, since the kitchen focuses on using only the freshest seasonal ingredients.
Much like their neighbors at Lady of the House, Folk is a female-led establishment.
Our Recommendations: Plain waffle, vegan folk bowl, hash plate
4. Ima

The award-winning Ima is a remarkable little spot that has captured the hearts of Detroit. 
Ima's beauty rests on simplicity. Simple ingredients, a small menu, no weak links. Just ask owner and Chef Mike Ransom, who's usually in the kitchen.
With a number of veggie forward dishes, Ima's menu items are just plain solid. If there is kimchi on your boom-bap, trust it will be some of the best kimchi you've tried. And make sure you order the curry lobster (may be a first for you?)
With a new Madison Heights location, and Midtown opening soon, Ima has been making waves for some time and shows no sign of slowing. Be warned, however – the Corktown Ima spot is not huge in size and fills up quickly. Plan ahead if you're going with a group!
Our Recommendations: Steamed edamame (trust us), Boom-Bap, lobster udon
5. Gold Cash Gold

Just down the street from Ima is the not-to-be-missed Gold Cash Gold. Gold Cash Gold resides in a former pawn shop, designed with the intent to keep the seedy flair on the exterior. Inside you'll find cool exposed brick, deep wood paneling, and stained glass displays.
Gold Cash Gold offers a variety of small plates if you'd like to stop in for a quick bite and a cocktail, however, they also sport a variety of bigger 'mains' for those looking for a traditional coursed meal. The beverage program is quite strong, and is likely to feature something that will please the casual drinker and wine know-it-all alike.
Gold Cash Gold also works with local ingredients and farms whenever possible, like many of its neighbors. As a cool detail, their menu includes a spotlight on which farms they are currently working with to create the menu.
Our Recommendations: Salmon belly tartare, tomahawk pork chop, truffled arzak egg
6. Takoi
Just a jaunt further down Michigan Avenue and you'll be in front of Takoi. Where Gold Cash Gold might lure you in with its retro pawn store mural, Takoi might not even seem like it's a restaurant at first glance. Flanked by storage containers and a chain link fence, it looks more like a storage facility. But something cool lurks in its presence. 
Enter and the contrast is overwhelming. You may feel as if you just stepped from a vacant Midwestern lot into a Blade Runner-themed laser tag arena.
The wonder of Takoi does not end at the decor. While it's hard to say there are many places that look like Takoi, there are even fewer that taste like it.
Takoi is a sort of broad asian fusion, drawing on many different asian cultures for its dishes. Spicy food fans will feel right at home within these walls. As will the adventurous eater – expect to see grilled duck hearts and sour pork belly. 
Along with a pretty cool dining experience, Takoi values an open and accepting environment – emphasizing their commitment to the LGBT community.
Our Recommendations: The menu changes quite often BUT: Duck noodles, Sichuan noodles, crispy spare ribs – if you can get ahold of them
7
. 
Mudgies

Voted 5 Time Best Deli in Wayne County in the Metro Times, Mudgies is just plain good.
It's the kind of spot you can roll into for a killer brunch and Bloody Mary, a top-notch deli-style sandwich, or even a high-quality bottle of wine to take home. There is a little bit of everything to offer at this truly special locale.
Beyond its great standard fare, Mudgies is hailed for its Lobster Roll week every July. Once a year, lines will extend around the corner to get ahold of a delicious fresh Maine Lobster Roll.
Our Recommendations: Stinson with a fried egg, Ivey (vegetarian), corned beef and hash (breakfast)
8. Ottava Via

For a more classic dining experience, check out Ottava Via on Michigan Avenue.
Ottava Via features a beautifully lit bar as an interior centerpiece. Out back, you'll find a full patio equipped with a fire pit. While Ottava Via perfectly captures what a wholesome Italian-American dining experience should look like.
Our Recommendations: Melted pecorino and pear plate, rucolina pizza, black tie gnocchi
9. Brooklyn Street Local
Much like the 'Brooklyn' sandwich at Mudgies, Brooklyn Street Local is named for Detroit's Brooklyn Street, and not Brooklyn, New York. 
In 2012, partners Deveri and Jason moved to Detroit from their native Toronto, and they brought with them little bits of home. Brooklyn Street Local features an abundance of vegetarian options, some of the best brunch in the city, and, of course, a full poutine menu.
Deveri and Jason want to focus on locally sourced ingredients, sustainable farming methods, and the importance of community. Much like Lady of the House and Gold Cash Gold, Brooklyn Street Local employs many of Detroit's urban farms to source their fine ingredients.
This is a no-waste kitchen, utilizes recycling methods and composting, and aims for maximal waste reduction. 
Our Recommendations: The Canuck Sandwich, Breakfast Poutine (for dinner), Vegan Reuben
10. Cork and Gabel
Cork and Gabel set up shop next to Two James Distillery on Michigan Avenue. Some unlikely cultures join forces to make up this menu – Ireland, Italy, and Germany.
The interior of Cork and Gabel has a well-worn industrial vibe. At certain times you even may feel like you're inside an abandoned Detroit warehouse. The dining room features a U-shaped bar flanked on all sides by dining room tables, including a large table for group dining.
Between three cultures, you'll find something to satisfy your food craving. If you don't feel like pasta, get a sausage. If you don't want a sausage, enjoy a Guinness-braised short rib.
It's the newer kid on the block in terms of Corktown restaurants, but Cork and Gabel comes equipped with a serious vibe.
Our Recommendations: Fried dubliner, mushroom risotto, sausage sandwich sampler
Check out other Dine Drink Detroit favorites around Detroit – whether you're a taco lover, a pizza fiend, or you want something to do around the city!