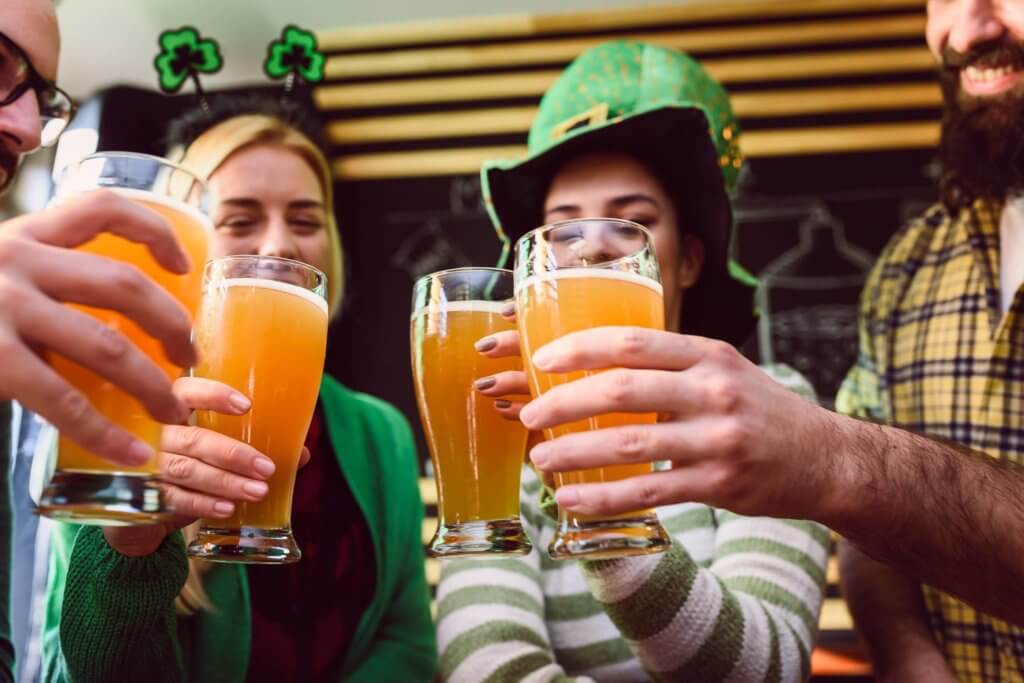 Prior to the St. Patrick's Day all day celebrations, they started arriving as early as the 1830s, and then again, in mass, after the famine rocked the Irish old country. They claimed Corktown as their own and even named it after the precious county in beautiful Eire where many of the newly Americanized had left the emerald hills for the Great Lakes. This may have been a new land, but some of the old ways were too special to give way to assimilation; the parade was already a thing in Detroit during the 'pre-famine' days and became a mainstay in the years following. But it was too special a gem to keep to themselves and it wasn't long before our Irish brothers and sisters began sharing the festival and its traditions with all of their new compatriots. As your newly inherited American birthright, you are duty-bound to celebrate St. Patrick's Day with proper merrymaking, a few too many Pogues' songs, and something whiskey/something Guinness.

Corktown Paddy's Parade Party
It's March 15th and you find yourself wearing a flickering Shamrock necklace and cartoonish, green felt, leprechaun's top-hat and you aren't quite sure where you should be for St. Patrick's Day? The answer is surely Corktown Paddy's! Their annual parade celebration will this year be presented by Budweiser and is featuring DJs and the music of Detroit's own Stone Clover. This is a shame-free environment ('cause no matter how much you've put in you, no chance you're the drunkest guy there). So, wedge into the sea of green tees bobbing under the party tent, have some Irish beer and whiskey and do your dumbest white-boy dance to the high-octane bass and accordion Paddy Slag on stage. Time to "Get Green and Get Down in Corktown"! Don't wait — get your tickets for Detroit's largest St. Paddy's Day Party at www.CorktownPaddy.com.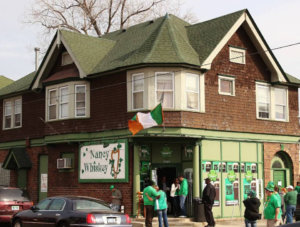 Nancy Whiskey
Nancy Whiskey openly boasts of its greatest claim to fame as: Detroit's. Oldest. Party. And this moniker is well-earned; she survived both Prohibition and even a major fire. So, show some respect and get yourself there on both Parade Day and St Patrick's Day this year. Free jukebox, free darts, and bloody fish fry! A Jameson is only four bucks, so just think how many you can get for that moist and crumpled twenty you've had in your pocket from the last two bars. Honor the party gods and stumble in, get dragged out, and all throughout enjoy some live tunes and interact with one of the finest staffs in the city. Old doesn't mean dead – it means experienced. And Nancy knows what she is doing. The only way to become old and wise is by having once been young and crazy!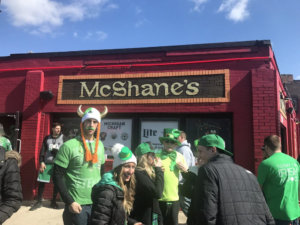 McShane's
You've seen it happen – posers and amateurs, with a blasphemous slice of pizza or a sacrilegious carton of Chinese…on St Patrick's Day!! Such insolence cannot be tolerated! So, on St P, please do your part, and if you catch any misguided partygoers, confiscate their heretical food, chuck it in the rubbish, and Uber them straightaway to McShane's Irish Pub. Don't bother with the menu. It's awesome, but Jambalaya (good as it is) should not be a word that is muttered in March; you will have a Bangers and Mashed each and a Shepherd's Pie for the table. The place will be packed so order that first, then make sure to throw in some Irish Ale Battered Pickles, Stout Cheddar Horseradish Spread and Angry Drunken Mussels- to stay on theme. Now lean back on your stool, confidently knowing you've done your duty as a good citizen.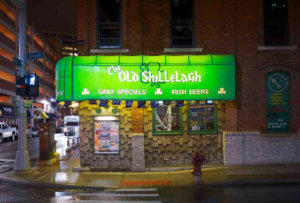 Old Shillelagh
The Greeks gave us democracy and the Irish returned the favor by giving Greek Town its very own Irish Pub. Old Shillelagh is a great option for anyone working downtown and bitterly watching the festivities from their office window. Clock out and avoid the pandemonium of trying to find Corktown through the mob by going straight to the Old Shillelagh on Monroe. Oh, and you're a vegan? All good (you do you). Shillelagh's got your back- full vegan menu and even gluten-free buns for your full-on masochists. The OS is a judgement-free zone and having fun in Greek Town is priority. Being part of the after-five crowd is not so bad – happy hour menu includes $2 PBRs and a Burger and Beer combo pack. So, loosen your tie and get crackin' because you have a lot of catching up to do.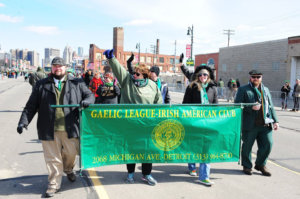 Gaelic League Irish American Club
Lots to do St Patrick's Day weekend revolving around one of the epicenters of Irish life in Detroit known as the Gaelic League Irish American Club. Too often we forget the religious aspects that preceded the modern-day St Paddy's debauchery. Therefore, before the festivities, be sure to cleanse your soul at the Parade Day Mass at Most Holy Trinity Church. Afterward, get out your trainers and join the now 8000-strong running horde of do-gooders that 5K down Michigan Ave to benefit the local Senior Center. And after hiding behind that stained-glass curtain all day, take your brand-new soul, chug down several green-died pints of swill, and get yourself into some well-earned mischief. The craic will be mighty!