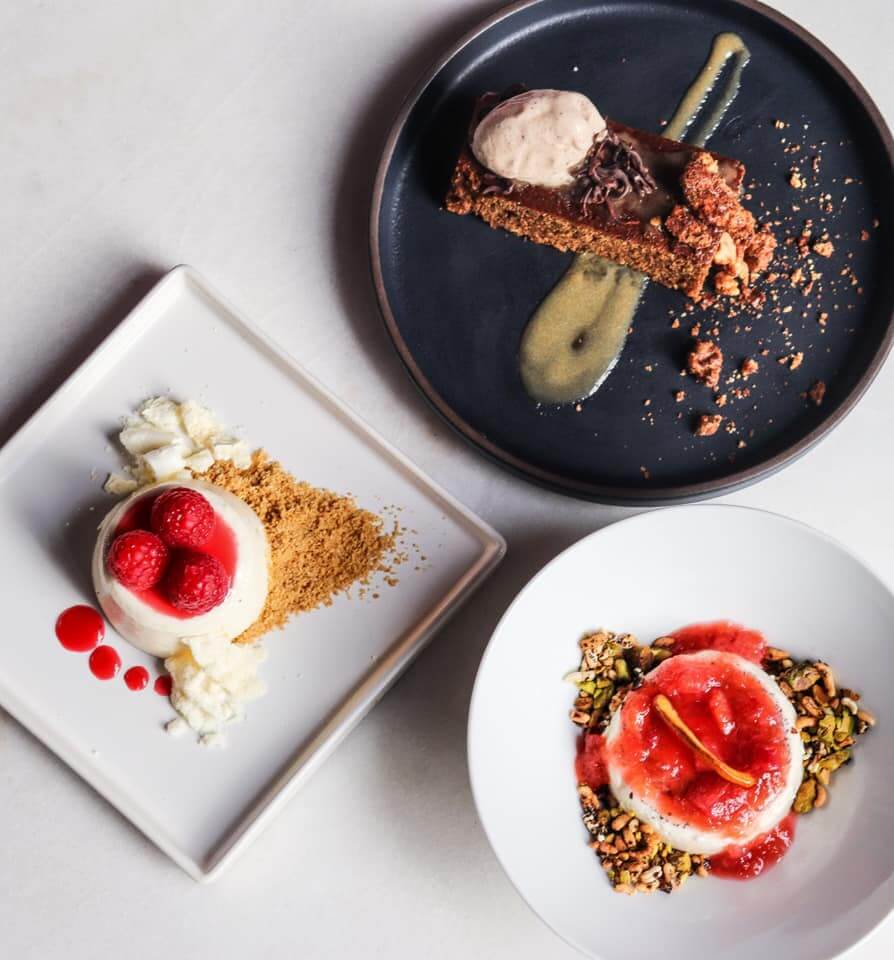 Yes, we have officially stepped into that morose time of the year, we each feel we've been written into our own Dostoevsky novel – late Winter in Detroit. It's so easy to bitterly deactivate our Tinder accounts, sign up for HBO GO, and tuck into our 3-pack of Snuggie's until the sun of early spring breathes fresh color into our life's grayscale hue. Until that point, however, Valentine's Day comes along to remind us to about-face on this gloom and get on gettin' some. Romance in Detroit is as assorted as we are, and here are some amorous Valentine's Date Spots for you.
Vertical Detroit
This Valentine's Day, before you get horizontal, get vertical at Vertical Detroit on Centre Street. Boasting one of the sexiest menus in the city, Vertical offers you and your date Foreplay (caviar service and grapes), Coitus (risotto with caramelized onions, leeks and gruyère) and Climax (espresso and brownie parfait).
Sounds yummy, but don't forget the best part: Vertical Detroit's award-winning wine selection! The Wine Flight is epic and you and honey-bear can choose from some of the best of the West Coast: Alpha Omega, Philip Togni, and Dominus (to name a few). Or 'By the Glass': Something bubbly with your grapes? The risotto probably goes awesome with that white grenache! Stolpman Vineyard's 'Para Maria' Syrah and Petite Verdot blend IS on draft and WILL be killer with that parfait! Well done- you nailed it!
Iridescence
Iridescence Ooh, that name already sounds sexy, right? Now throw back a couple orders of Oysters "Up in Smoke" (oysters, tequila, grapefruit, and pink peppercorns) while staring at the skyline through the floor-to-ceiling windows, and try not to claw each other's clothes off right then and there! And, since it is located in the MotorCity Casino Hotel, you're never far from the room once those oysters kick in.
Don't dash off too quickly, pre-order a 24K Chocolate Bar (peanut butter, banana, and gold leaf) and a Melting Chocolate Sphere (flourless chocolate cake, molten caramel and berries) to eat in bed. Just one last thing, wake up satisfied and find your way to the MotorCity Casino Hotel Spa and treat yourselves to a well-earned pampering.
SheWolf
Looking to deliver a truly rare evening to your boo on this special night? If you can land a reservation at SheWolf, you're bound to be the hero of the evening. SheWolf has made such an impact in Detroit's midtown, their books have been full for months.
SheWolf's defining draw has got to be their house-milled pasta, made fresh daily. A lot of from-scratch kitchen these days boast hand-made pasta, but house-milled? That detail is bound to turn some heads.
Kick off your night with a trend-worthy vermouth flight over ice and an amuse bouche. If you're looking to lay down (before you head to bed), SheWolf offers a handful of high-end champagnes – but why not stick with the theme? Grab a sparkling Nebbiolo instead! Move into that irresistible hand-crafted pasta midcourse, and finish it off with a mouth-watering 24 oz ribeye brought to life by mushrooms and Marsala sauce. And what says romance more than ricotta fritters and salted caramel before you take the party home?
OlivJoos' Singles Mixer
Looking for a little romantic pick me up this year? Fear not! There is always another future-ex at one of Detroit's Pop-Up Singles Events on Valentine's! Check out Eventbrite for a few opportunities, but the OlivJoos Singles Mixer should be a good spot to find a suitable soul-mate (or simply an evening fling). There will be a cocktail hour and live entertainment and the bar goes late.
Not knowing where it will be held is part of the sexy mystique and locations will be announced early February. You've done your time, the days of that apartment being cold and empty are numbered- you deserve a decent partner and, for the first time, some substance. Get hunting!
Chartreuse: Kitchen and Cocktails
Deep in Midtown Detroit exists one of the most romantic restaurants in the Great Lakes region. Chartreuse is perennially gussied in the floral-themed 'featured works' of local artists – including a Living Wall of fleshy purple-and-green succulents and a hanging flower display that delicately sways above you like provocative mistletoe.
It's an urbanized Alice in Wonderland of sexy madness and the 'Eat Me' cake is most certainly the Scallops dish with chestnut and apple butter, candied cranberries, kumquat, and grapes. Close your eyes, take a bite and you and your lover are whisked away to a secluded mountain cabin – draped across the bear rug and before the glow off the fire.
What better way to follow this sensation than a chocolate cremuex with meringue and rosemary caramel? One bite, eyes close, a new realm, a field of herbs, you're chasing one another, she catches up to you both fall to the soft, marshmallow-y earth and enjoy each other. Eyes open again, a sip from a famous Chartreuse cocktail, and then…
Hero Or Villain: Detroit Food Truck
Let's face it: millennial love is a different beast- some might say, evolved. No one elopes to Vegas anymore and ritual-less cohabitation has replaced outmoded notions of the picket fence and little Sally's pigtails and Sunday dress. You LOVE your double income and limited restraint (money is for splurging on the newest gadget, not for stupid things, like diapers). Even the thought of a red-and-pink, box of chocolates, gooey V-Day makes you want to hurl; since to you, Valentine's is a thinly veiled parade of machismo oppression- and hell, the two of you were thinking of going poly anyway.
The answer: have a Gen Zed Valentines, find the Hero Or Villain food truck (no reservations necessary), get out your favorite cosplay gear, and share yourselves a Captain Planet hoagie. The Cap Plan is a Portobello and pesto-ie vegetarian thrill, but you (or he, she, and they) are newly flex and should bacon-it up for the extra two bucks; after all, what boomer-instituted social construct says that veggies can't get porked?