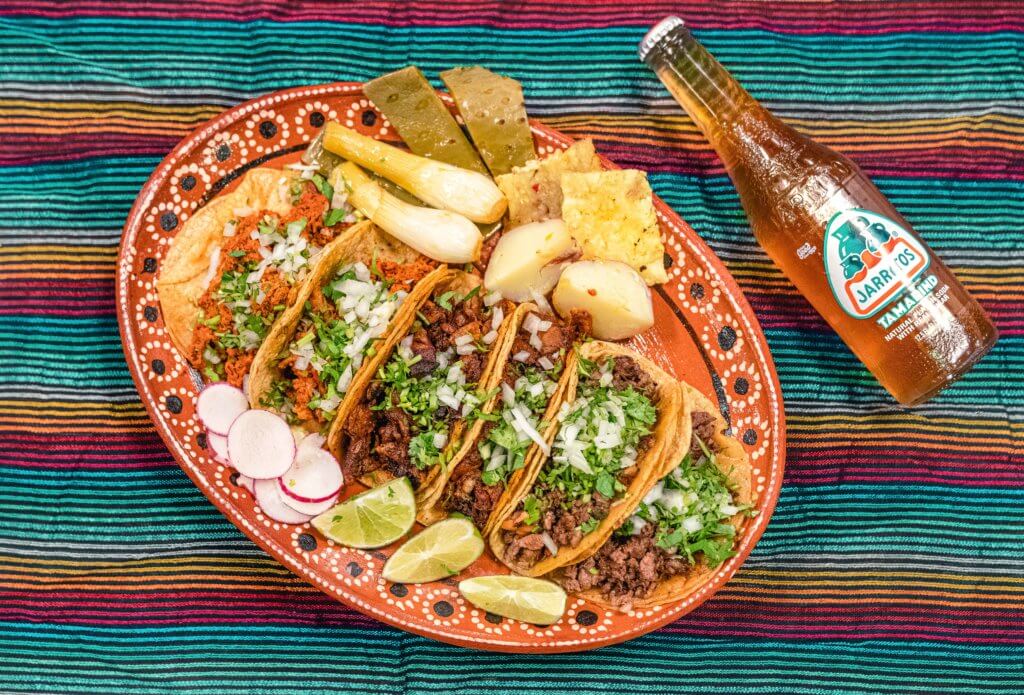 In Detroit, tacos are a universal language. They're a sort of binding agent that brings together all kinds of different individuals. It's a food that can be at almost any time of day – and let's be honest, who doesn't enjoy a Grande Combo at Taco Bell from time-to-time?
Detroit has a long relationship with Mexican food. Mexicantown in Detroit's Southwest district has long been a haven of Hispanic food and community thanks to a vital Mexican immigrant population whose history dates back to the 1920s. 
As the Detroit culinary scene began to blossom over the last decade, so with it has Detroit's vibrant Mexican culture – including Detroit tacos. From an ever-increasing supply of taco trucks around town to a yearly celebration of all that is Detroit tacos, the Motor City has plenty to offer taco fanatics.
From some classics to a few new faces, we've done our tasting homework around town. And we've got a list of 7 of the best Detroit tacos you can't live without.
1. Los Altos
Los Altos's Chef Adan Lopez came from the Western coastal state of Jalisco, Mexico. Aside from being the home of Tequila, Jalisco is renown for its plentiful contributions to Mexican food culture.
Los Altos brings with it the best Jalisco has to offer, including the most famous dish – al pastor tacos. For those unfamiliar, an al pastor taco features achiote-braised pork, onions, cilantro, and, most importantly, fresh pineapple slices.
Voted one of the best taquerias in the U.S. in 2018 by Thrillist, Los Altos features a massive menu. For those adventurous ones, popular taco picks also include tongue (lengua), head (cabeza), and tripe (callos).
2. El Asador
A slightly more upscale Mexican joint, El Asador considers itself primarily a steakhouse rather than a taqueria. But it's their tacos that also happen to be quite delicious.
El Asador prides itself on only using the freshest possible ingredients and making everything from scratch. Their dishes are all given a maximum shelf-life of two days, and they boast that they don't even own a freezer.
Chef Luis Garza immigrated from Mexico to the U.S. in 1985, and after two years of working in the labor industry he got into the restaurant business. He draws his inspiration from his mother's cooking. And it shouldn't be too hard to keep her inspiration near – she assists in the kitchen every day at El Asador!
Taco options at El Asador feature quite a bit of seafood flare with offerings such as shrimp diabla, mahi mahi, lobster, and scallops. But carnivores never fear – chicken, chorizo, and beef are available and absolutely delicious.
While of course this is a list of great tacos, it's worth mentioning that El Asador's menu extends far beyond tortillas. Patrons can expect to find oven-roasted salmon with a lobster cream sauce, 8oz filet mignon with 3-pepper sauce, and a cazuela de mariscos (stew of fresh seafood) with chili broth.

3. Imperial
Located on Woodward Avenue in the heart of Ferndale, Imperial is a new(ish) kid on the block. And they bring a lot to the table.
Imperial features regularly rotating vegetarian and vegan tacos, including a delicious seitan taco with pickled radish and vegan lime cream. For meat-eaters, an easy choice is the chorizo taco with potatoes and queso fresco. But quite frankly, there isn't a bad choice to make when it comes to Imperial's taco options.
The tacos are small bites, so don't be shy – get a whole platter and make a sampler out of it!
Those looking to stray from the taco path should consider one of Imperial's Sonoran hot dogs. Originally from the Mexican state of Sonora, a Sonoran hot dog is wrapped in bacon and grilled, served on a bolillo-style hot dog bun, and topped off with beans, tomatoes, salsa, jalapeno, mustard, mayo, avocado, and cotija cheese. It's a slop-fest, but it's oh so worth it!
If you're in the mood for a craft cocktail, look no further than Imperial's Ring of Fire. For a standard spicy sipper, the Ring of Fire packs a punch – featuring habanero orange juice, tequila, and a salt rim. Another stand-out for pure flare alone is the 'Hair of the Dog'. When you order this land-mine, you walk your way into a bloody mary, a shot of tequila, and a cigarette. Godspeed.
4. Bakersfield
Bakersfield opened in late 2017 near the Comerica Stadium in Midtown, and since has been a popular stop for game-goers and residents alike. Featuring over 100 unique tequilas and whiskeys, an extensive dinner menu, and a cavernous ambiance.

Bakersfield prides itself on freshness – braising all their meat themselves, making fresh guacamole every two hours, and tortillas fresh everyday. These might sound like obvious steps, but for a restaurant with locations in five states, it's energizing to know a return to freshness still appeals to some corporate big-wigs.
One of Bakersfield's rarer taco offerings is huitlacoche – or, Mexican corn truffle. Huitlacoche is a fungus that grows on corn and sprouts edible galls. These gooey, black messes might not appeal to the less adventurous eater, but for those that like to step outside the box, it's a savory, umami-filled treat.
5. El Parian
Over the last 9 years, Jalisco-native Nancy Lopez has built El Parian into a widely recognized fleet of taco trucks throughout Detroit's Southwest area. Lopez started her days at Los Altos when she was 14, and she would go on to manage her family's food truck. Eventually, she'd be managing her very own.
Lopez's first food truck was enough of a success that her and her husband Ramon Diaz were able to quit their day jobs to focus on food. El Parian now has five food trucks and an outdoor taqueria on Lawndale Street.
If you remember the homegrown treat for which Jalisco is so widely known, you might guess the specialty at El Parian – the al pastor taco. Lopez's al pastor taco is praised for its tender, sweet pork, perfectly caramelized onion, and pickled carrots, radishes, and onions served alongside it. Many say that El Parian's al pastor tacos are easily the best in the city.
El Parian started as a small operation and has grown into an iconic part of the Southwest Detroit Hispanic community. If the delectable food didn't sell you on a visit, Lopez's inspiring story will. 
6. Los Dos Amigos
When it comes to Detroit tacos, you have to talk about Los Dos Amigos. The Los Dos Amigos truck regularly turns up at Detroit Fleat, and maintains a spot near Campus Martius most days of the week.
Los Dos Amigos prides itself on the beauty of simplicity. Simple preparation with fresh ingredients at affordable prices. Serving traditional Mexican street food beyond simple tacos – whether you spring for the burrito or a torta, expect it to hit the mark. 
If you're still not convinced, Los Dos Amigos took home the gold at the 2019 Taco Showdown at Eastern Market. It appears audiences and judges alike were blown away at what they bring to the table!

7. El Nacimiento
Last but by no means least is El Nacimiento. Located off the Vernor Highway, El Nacimiento offers traditional Mexican fare done right. For those Mexican/Tex-Mex purists looking for something simple, approachable, and delicious, this is your joint.
The tortillas are fresh, the tacos are delicious, and the sauces are aplenty. El Nacimiento has some fantastic traditional taco offerings, including al pastor and a delicious tinga de pollo. 
For those looking for something outside the box, El Nacimiento has a few tricks up their sleeve. Give the crispy loaded oysters with spicy shrimp a try – you won't be disappointed. 
Want More Detroit Tacos?
We certainly can't cover all the great tacos out there in one article. So, for those interested in more than an overview, check out Dine Drink Detroit's Taco Showdown next year.
The Taco Showdown offers taco-lovers a chance to try some of the city's greatest tacos, sip on margaritas, chat with friends and family, and dance to some great tunes – all at the Detroit's historic Eastern Market. Feel free to visit our website for more information on attending, participating, or volunteering. 
Curious about Detroit food? We've got Detroit pizza and other must-do activities for you!