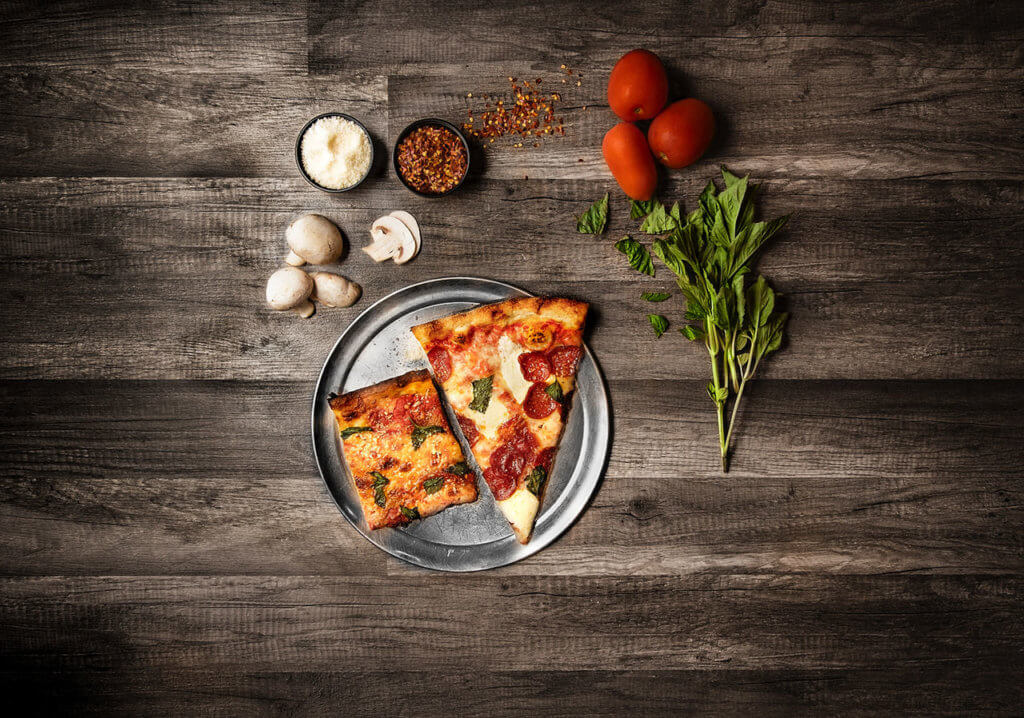 One of the fastest-growing trends in the far-reaching world of street eats is the delicious, thick-crusted pizza created in the heart of the Midwest – Detroit, Michigan. Detroit has many claims to fame – Motown Records, techno music, and the start of the auto industry. However, most people don't exactly think of pizza when they think Detroit. Yet, ask any Detroiter about a local slice of pie and you're bound to get an earful.
On top of being the home of famous pizza chains like Domino's and Little Caesar's, Detroit has a micro-culture of pizza all its own. And it turns out folks are getting hip to it. Detroit-style pizza joints have begun popping up as far away as San Francisco. It seems like people can't seem to get enough of this greasy delight. 
So what is Detroit style pizza? Let's check out what goes into this slice of the Motor City.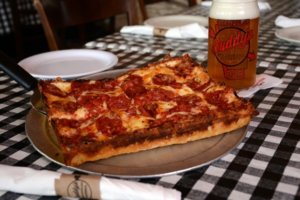 Buddy's Rendezvous – the Birthplace of Detroit Pizza
Detroit Pizza is by no means the first bona-fide Detroit hometown treat. But rest assured it has a storied past. 
That tale begins in 1946 at a 'blind pig' (an unlicensed bar/restaurant) on the corner of 6 Mile and Conant. Gus Guerra, a child of Sicilian immigrants, owned Buddy's Rendezvous with his wife. There he employed a waitress named Concietta "Connie" Pincanatto. It was within those walls that Gus and Connie modified Connie's Sicilian family pizza recipe to birth a concoction all their own.
That concoction was the first Detroit style Pizza.
The unique treat left Buddy's Rendezvous inundated with patrons trying to get a taste of the neighborhood treat. It wasn't long before the tavern became a hot local haunt. Every day neighbors would pile into the dimly-lit brick interior of Buddy's to sample Gus and Connie's creation.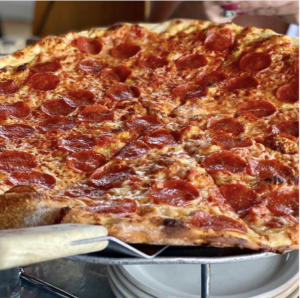 So, What Makes Detroit Pizza So Unique?
Like Sicilian pizza, Detroit style Pizza is baked in a rectangular shape instead of a circle. Perhaps the most crucial difference that set the recipe apart was the use of buttered, blue-steel industrial pans. These are deep, tempered pans that heat up to hotter temperatures than a baking sheet. It nearly resembles Chicago pizza in its depth, but remains fluffier in its density.
It's said that these pans were taken from one of the local auto factories where they were often used to store tools. When the cheese comes into contact with the sides of these blue steel pans, it caramelizes, creating Detroit Pizza's iconic crispy corner pieces.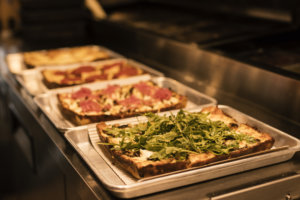 Another key factor to traditional Detroit-style pizza is a layer of Margherita pepperoni between the crust and the cheese. In Gus's opinion, this allowed the crust to more fully absorb the flavor of the savory cured sausage.
Spread on top of the pepperoni is a layer of (most often) Wisconsin brick cheese, and, most crucially, the cheese is spread all the way to the edge of the crust. This ensures the caramelization of the cheese, and in turn, those oh-so-lovely crispy corners.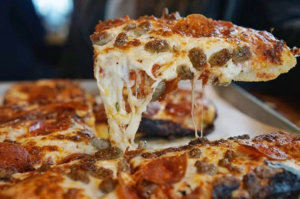 To finish it all off, a light, fresh tomato sauce is spread on top of the entire pizza in thick stripes. This, again, may strike you as similar to Chicago pizza. No doubt these two styles might be called kissing cousins – much like Detroit and Chicago themselves. But rest assured, Detroit pizza is a completely different beast.
Detroit-style pizza is not a casual dining affair. It is dense, messy, and greasy in all the best ways possible. You may be inclined to enjoy this mammoth meal with a fork and knife. But you've been warned… Your reputation may suffer if you can't handle it with hands alone.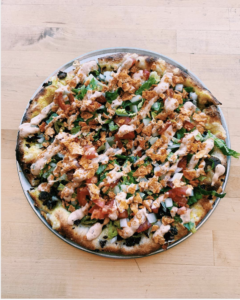 Does the Buck Stop With Buddy's?
Buddy's eventually switched hands in the 1970s, and again in the 1990s. However, the original Buddy's still stands strong at 6 Mile and Conant. The walls gleam with trophies and photos from the owners television appearances. Buddy's has also since opened 10 other locations throughout southern Michigan.
You can't talk Detroit Pizza without Buddy's. But to say Buddy's is all this style of Pizza has to offer would be sacrilege.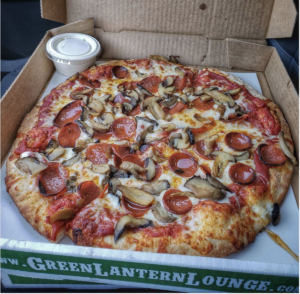 Many sing praises of the rival Loui's. Founded by Buddy's ex-chef Loui Tourtois and located in Hazel Park, Loui's maintains what is said to possibly be the oldest standing Buddy's recipe. Another time capsule itself, Loui's is adorned with its original 70s decor, and offers some of the city's most exemplary pie.
Cloverleaf in Eastpointe is another name that can't help but come up in conversation. After selling Buddy's in 1953, Gus and his wife Anna opened Cloverleaf and kept up with the classic Buddy's recipe. 
More modern favorites include Green Lantern in Clinton Township, Pie Sci off Trumbull Avenue, and Supino in the legendary Eastern Market. 
Want To See All That Detroit Has to Offer for Pizza?
For those of you who want the bullet point journey of Detroit's best pizza offerings, check out Dine Drink Detroit's next Pizza Throwdown in Eastern Market.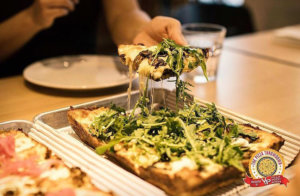 The Pizza Throwdown offers its guests a family-friendly chance to relax with friends, listen to some tunes, and, of course, sample over 60 different types of pizza from some of Detroit's best pizzerias. Visit our website for more information on attending, participating, or volunteering. 
We look forward to seeing you at next year's Pizza Throwdown!
Want more Detroit deep dives? Check out our blog! We've got some travel tips, top tacos, and a guide to Corktown restaurants!